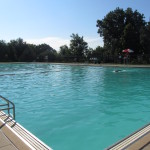 Hopefully, you already know that there is a pool in our fabulous park. (You'd be surprised how many people don't know about this gem!) As of Saturday, that pool is open, and you can enjoy it now through June 15th, weekends only. Saturday's hours are 12-7pm, and Sunday's are 1-6pm. Beginning June 21st (not June 14 in case you saw the original post or the city's online schedule), the pool will be open daily. The programs and open swim schedule are displayed below, as well as the prices for most programs. Open swim prices remain the same this year- $2 per visit or $30 for the season. You can't beat it!
We hope that Riverside residents will make a greater effort to participate in open swim this year, as well as in some of the great programs that we worked hard to bring back, such as Bootcamp and Baby Country Club (formerly Mommy/Baby Swim). Lots of other great programs are being offered as well. Be sure to take advantage of this great resource in the heart of our community!
*Schedule subject to change at any time. For the most up-to-date information, visit the pool house or follow RNA social media. We will post information as we are made aware.