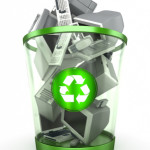 Domino Sugar is sponsoring an e-recycling event on Earth Day, Wednesday, April 22nd from 11am to 3pm for employees wanting to recycle electronic equipment and devices, and is also opening the event to residents of Locust Point and Riverside. It will take place at the Domino Marina parking lot located behind 1020 Key Highway East, across the street from the 7-11. Yellow Domino signs will mark the entrance on the day of the event. National Reclaim Inc. in Baltimore City will accept the following items free of charge:
Copiers
CPUs (Towers)
Fax Machines
Hard Drives
Keyboards
Mac Systems
Mainframes
Networking Equipment
Printers
CD Players
Scanners
Shredders
Vacuum Cleaners
Batteries
Speakers
Telephones
Cables/Cords
A/V Equipment
Digital Cameras
Terminals
POS Systems
Cell Phones
Software
Stereos
DVD Players
Project Equipment
Manuals
Typewriters
Microwaves
Mice
VCRs
Test Equipment
Photo Printers
Radios
Wire
Tools
Circuit Boards
Household Appliances that are free from hazardous materials. For example, air conditioner units and refrigerators/freezers are acceptable if the refrigerants have been responsibly recovered before drop off.