*If you ordered tickets on our website, please email RNAtreasurer@gmail.com to arrange pickup.
---
Check our Facebook page to find out when and where we will be selling tickets!
by admin
 9:00 a.m. to 1:00 p.m. at Riverside Park
**Rain date is Saturday May 6, 2017
Sell: Online registration is now closed. There may be tables available the day of for $15, but this is not guaranteed. You are welcome to bring your own table and pay $15 for the space as well. Please email rnabaltimore@gmail.com for more details.
Buy: Swing by the park and score some new-to-you goods while enjoying Riverside Park.
Donate: Want to get rid of things without the hassle of selling? Drop them off to the RNA table by 9:30 a.m. on April 29. Proceeds from your donations will benefit RNA.
For more information or to volunteer, send an email to RNABaltimore@gmail.com.
by admin
Phase 2 (green) is nearing completion. Residents have been connected to the new gas main or will be in the near future. Once all homes are connected, plans will be made to repair disrupted sidewalk squares and repave streets.
Phase 3 (blue) residents may have received a letter in the mail or a door hanger to alert you of what is to come. If you attended our last meeting, you were able to hear BGE's plan and ask questions. If you missed out, the video below also provides a good visual for what you can expect, and you can find FAQs here. If you still have questions, please email operationpipeline@bge.com or call 410-470-7700 and referece the South Baltimore Phase 3 Project.
by admin

If you're new to the neighborhood or haven't been able to stay up to speed on all the work going on in our neighborhood, read on! At an RNA neighborhood meeting last year, BGE reviewed the steps required to complete the Operation Pipeline Phase II project (green shaded area) so that we would have a better understanding of the process and know what to expect. The steps are as follows:
1.) Call For Miss Utility Markings
2.) Perform Test Holes to Validate Markings
3.) Perform Saw Cutting Operations
4.) Perform Open Trench Operations for Main Pipeline Installation
5.) Introduce Natural Gas to New Main Piping
6.) Install New Service Pipelines, Plumbing and Tie-In to New Main
7.) Abandon Existing Main Pipeline
8.) Perform Final Paving Restoration (coordination with DOT – 6 Traffic
Calming Projects)
At this time (Jan 12, 2017), steps 1 – 5 are complete. If BGE has not yet contacted you (or your neighbor with whom you share a pipeline), they will within the next few weeks or months. You will likely find a door hanger on your door or in your mailbox, to which you should promptly respond. You will be asked to schedule a day for BGE/Willbros contractors to come into your home and perform necessary work in your basement. You should plan to be home for the entire day. After all homes within the Phase II boundaries are complete, sidewalks and streets will be restored. This work is expected to wrap up in the spring. All resident questions can be directed to Jimmy McCune at 443-463-0630.
*Reminder*
Customers are required to provide BGE with unobstructed access to its equipment. This includes all piping up to and including the gas meter inside your home.
by admin
Many thanks once again to Domino Sugar for sponsoring our cookie contest, and to our judges for making the hard decisions and choosing winners! On the panel were Delegate Luke Clippinger, Peter O'Malley of Domino Sugar, and Southern District Captain Sean Mahoney. They were tasked with determining the 3 best cookies out of 9, all which were absolutely delicious! Scroll down to find out who won, and how you can replicate their cookies for your friends and family this holiday season.
And the winners are…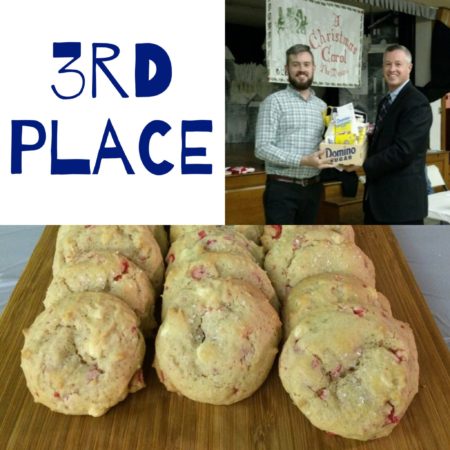 White Chocolate Peppermint Cookies

Yield: 2 dozen cookies
Ingredients
1/2 cup (113 grams) butter, at room temperature
1/3 cup (85 grams) cream cheese, at room temperature
1 cup (210 grams) Domino light brown sugar
1/2 cup (100 grams) Domino sugar
2 large eggs
1 teaspoon vanilla extract
1/4 teaspoon peppermint extract
2 1/2 cups (300 grams) all-purpose flour
1 teaspoon baking soda
1/2 teaspoon salt
1 cup (170 grams) white chocolate chips
1 cup (140 grams) peppermint crunch baking chips (see Note)
Coarse sugar, for sprinkling (optional)
Instructions
Preheat oven to 375 degrees F. Line a sheet pan with parchment paper.
In the bowl of a stand mixer fitted with a paddle attachment, or in a bowl with a hand-held mixer, beat together the butter, cream cheese, brown sugar, and sugar until creamy, about 3 minutes, scraping down the bowl as needed. Add the eggs one at a time, mixing after each, followed by the vanilla and peppermint extracts.
In a separate bowl, combine the flour, baking soda and salt. Add to the mixer and mix on low speed just until incorporated. Mix in the white chocolate chips and peppermint chips.
Roll cookie dough into rounded tablespoons (dough will be sticky) and place on the prepared sheet pan about 2 inches apart. Sprinkle with coarse sugar, if using. Bake until edges just begin to turn golden, about 9-11 minutes. Let cool on the sheet pan 5 minutes, then transfer to a wire rack to cool completely.
---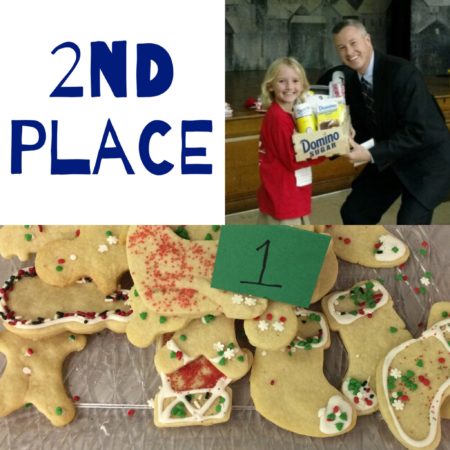 Holiday Cookies (adapted from America's Test Kitchen)
Makes about 4 dozen large (3-4"), about 6 dozen small (2-3")
Ingredients
25 ounces (5 cups) flour
112/3 ounces (1½ cup) superfine sugar
½ tsp salt
4 sticks (32 Tbsp) unsalted butter, cut into 1/2″ pieces & softened
2.2 ounces (4 Tbsp) cream cheese, softened
4 tsp vanilla extract
Note:  For superfine sugar: add 2 cups Domino® Sugar to blender, process until fine (about 30 seconds) then measure out.
Instructions:
1) Whisk the flour, superfine sugar, & salt together in a large bowl. Add butter to the flour mixture, one piece at a time, while beating using an electric mixer on medium-low speed.  Continue to beat until the mixture looks crumbly and slightly wet, 1 to 2 minutes.
2) Beat in the cream cheese & vanilla until the dough just begins to form large clumps, about thirty seconds.  Knead the dough in the large bowl by hand a few times until it forms a large, cohesive mass.
3) Turn the dough out onto a clean counter and divide it into quarters.  Form each into a four-inch disk, wrap in plastic wrap, and refrigerate for at least 30 minutes.
4) Ensure the oven rack is in the middle position and preheat the oven to 375.  Line 2 baking sheets with parchment paper.
5) Working with one disk at a time, roll the dough out to 1/8″ thick between two sheets of parchment paper.  Refrigerate again until firm.
6) Working with one sheet of dough at a time, peel top sheet of parchment off then replace it.  Carefully flip sheet over and peel off the other sheet of parchment.  Using cookie cutter, cut out shapes and transfer to lined baking sheets, about 1″ apart.
7) Bake the cookies until light golden brown, about ten minutes, rotating the baking sheet halfway through baking.  Let the cookies cool on the baking sheet for 2-3 minutes, then transfer to a wire rack to cool completely. When cooled, the cookies can be decorated as desired.
8) Repeat with remaining sheets of dough.  Leftover pieces can be combined and reused one more time, starting with forming into 4-inch disk Step 3).
9) Once cool, decorate as desired.
---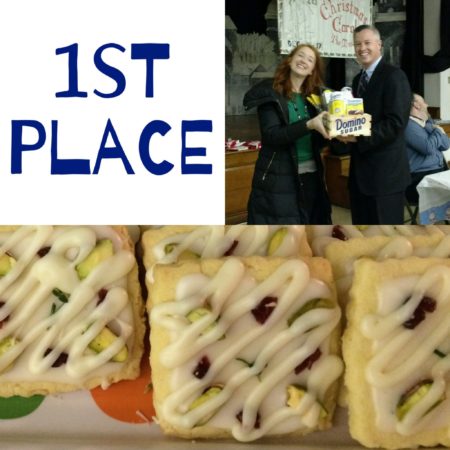 Lemon Shortbread with Pistachios, Cranberries, Herbs, and White Chocolate Drizzle
Ingredients
Dough:
2 cups flour, plus more for work surface
1.5 cups cornstarch
2 teaspoons baking powder
1/2 teaspoon salt
2 sticks (1 cup) butter, room temp
1 cup Domino granulated sugar
4 large egg yolks, room temp
Finely grated lemon zest from 4 or 5 large lemons
2 teaspoons vanilla extract
Icing & toppings:
1/4 cup (or maybe a bit more) fresh lemon juice
3.5 cups Domino confectioners' sugar
pistachios, dried cranberries, sprigs of thyme & rosemary
6 oz. white chocolate chips
2 T. milk
Instructions
1. Whisk flour, cornstarch, baking powder, and salt in a medium bowl. Put butter and granulated sugar into large bowl and beat several minutes, until pale and fluffy. Mix in yolks, lemon zest, and vanilla. Reduce speed to low, and gradually mix in flour mixture. Shape into two disks; wrap in plastic. Refrigerate until firm, about 1 hour.
2. Preheat oven to 350. Transfer dough to a lightly floured work surface. Roll out to 1/8 inch thick. Use cookie cutter to cut shapes and space 2 inches apart on baking sheets lined with parchment paper. Refrigerate until firm, about 15 minutes. Bake until just golden, about 12 -15 minutes. Let cool completely on wire racks.
3.  Stir together confectioners' sugar and lemon juice in a small bowl. Dip surface of each cookie in icing and sprinkle with chopped pistachios and cranberries.  Add a tiny sprig of rosemary or a couple small thyme leaves. Allow lemon glaze to set.
4. Heat chocolate chips and milk in the microwave in 20 second increments, stirring vigorously in between, until chips are melted.  Put in pastry bag (or plastic zipper bag and snip off end), drizzle over cookies.
---
In addition to the Domino Sugar products and swag, winners went home with gift certificates to the Wine Market, Das Bier Haus, and Dessert Fantasies! Sweet!
Congratulations winners, and happy holidays to all!
by admin
Please join us for our 4th Annual Holiday Cookie Contest, sponsored by Domino Sugar Baltimore, during our final neighborhood meeting of the year on Monday, December 12th at 6:30pm at Salem Lutheran Church.
How It Works:
On Monday, December 12th, bring no less than 3 dozen cookies to the church at 6:30pm, along with a $5 entry fee and the cookie recipe (must include a Domino Sugar product). Cookies may be presented in any type of container, not to exceed the size of a standard baking sheet. At 6:45pm, a handful of special guest judges will begin to taste cookies and will then choose 3 winners by the conclusion of the meeting. Winners will receive prize baskets provided by Domino Sugars. Winners and winning recipe will be featured in the January newsletter.
Not a baker? COME EAT COOKIES! Goodie bags will be available for leftover cookies to be taken home by fellow neighbors.
Rules & Guidelines:
Contest open to Riverside residents only. Only one registrant per household. By entering, all registrants give RNA permission to include their names, photos, and recipes in future publications. HAVE FUN!
Follow this event on Facebook.
by admin